How to add an article with the Free Entry Form?
The terms used in the article below correspond to iSYBUY. To find iBAT equivalents, click on this link.
You can place free-entry orders if, for example, you can't find the item you're looking for in the item families or your supplier catalogs.


In this article:
How to add a free-entry item to your shopping cart
The first step is to click on the "Order" tab (1) and then on "Free form entry" (2)

In the box that appears, fill in the relevant information (1). You can use the free-entry tab for both purchase and rental items (2), so don't hesitate to change tabs as required.
Once you've completed the information, click on "Add to cart" (3).

If you wish to add more information, click on "+ Add more information"

On the pop-up window that opens, you can fill in all the necessary information (1). As seen in the previous insert, you can switch tabs between purchase and rental (2) according to your needs. You can also paste items directly from an Excel document (3) or scan a quotation (4) if you have the option. Once you've filled in your details, click on "+ Add to cart" (5).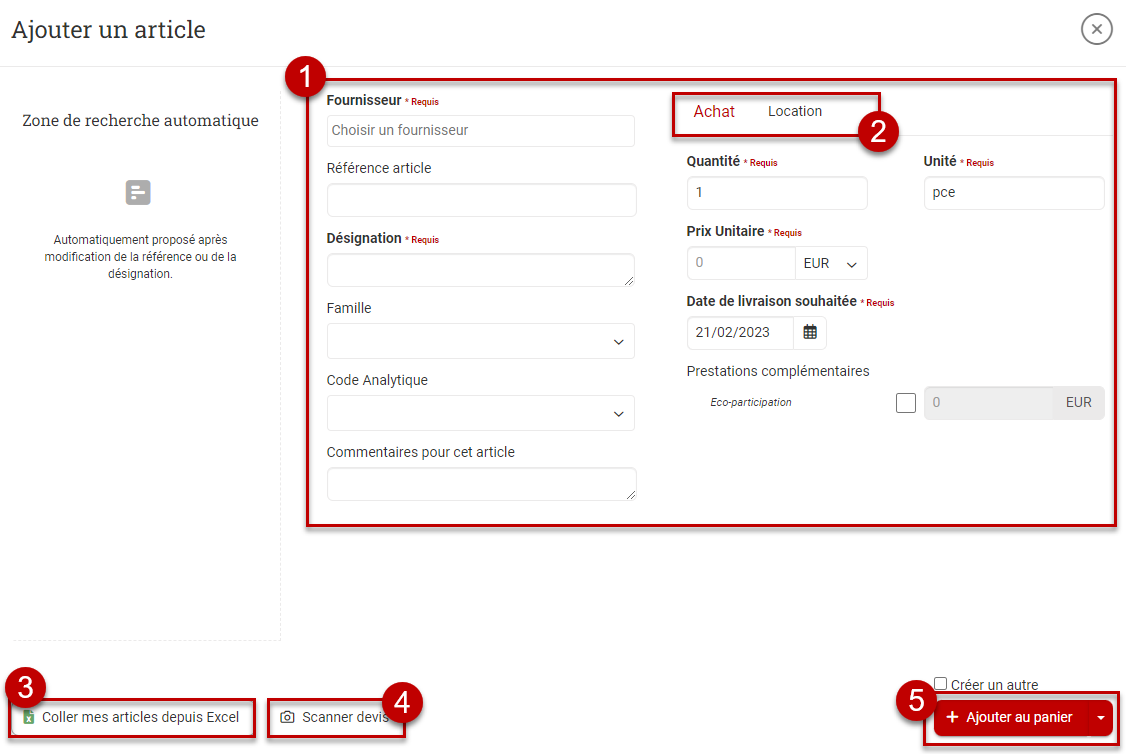 Once you've confirmed your free entry form, you'll be taken directly to your shopping basket screen, with the items you've loaded (1). Now all you have to do is place your order (2)!

Note:
If you're in your shopping cart and want to add a new item from this tab, click on "+ Add item", you'll be able to choose the "free entry form" option, which will transfer you to the pop-up in point 4, which is the full version of free entry item addition.

Do you have any other questions we haven't thought of? Send us your request at this address. We look forward to hearing from you!
Related words :
Free entry form - order - order - add - item - cart