How to submit a supplier creation request ?
The terms used in the article below correspond to iSYBUY. To find iBAT equivalents, click on this link.
To save your time in managing your suppliers, you can use a supplier creation request form. Do not hesitate to ask support to activate this option for you.
Reminder :
Users with the GESTFOUR privilege can set up suppliers for a company. Users can only place orders with suppliers specially configured for their company.
In this article :
Steps to follow for a supplier creation request
The first step is to go to the "Order" tab (1), then to "Free input" (2).


Type the name of the supplier you want in the search bar (1). If it does not exist yet, you will be offered the "Supplier creation request" action (2), click on it.

In the pop-up window that opens, you have the option of automatically filling in the supplier information by clicking on the corresponding button at the top of your screen (1). Alternatively, you can fill in the legal information manually (2). Then click on "Next".
Note :
It is possible to create a foreign supplier in iSYBUY. If you want to do this, you must first select the supplier's country, otherwise the SIRET, Postcode and City fields will be blocked in French format.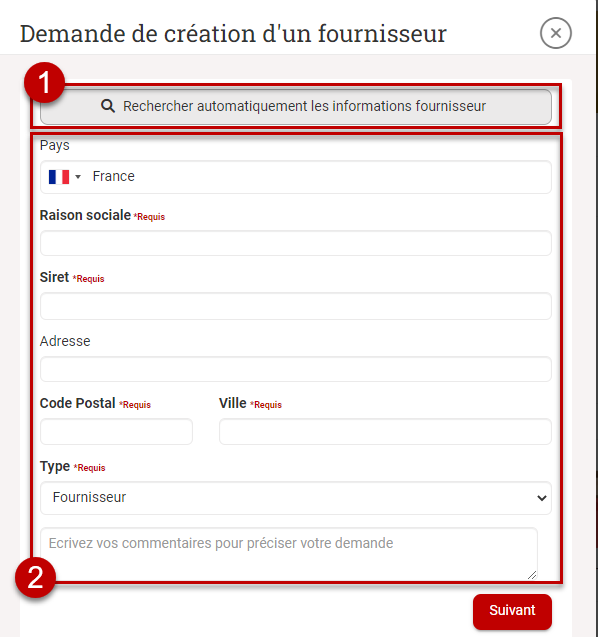 On the next page that opens, fill in the details of the supplier (1), then click on "request supplier creation" (2).
Note :
It is possible to set the supplier contact's "Email" field as mandatory, by sending an email to the Support team, by clicking here.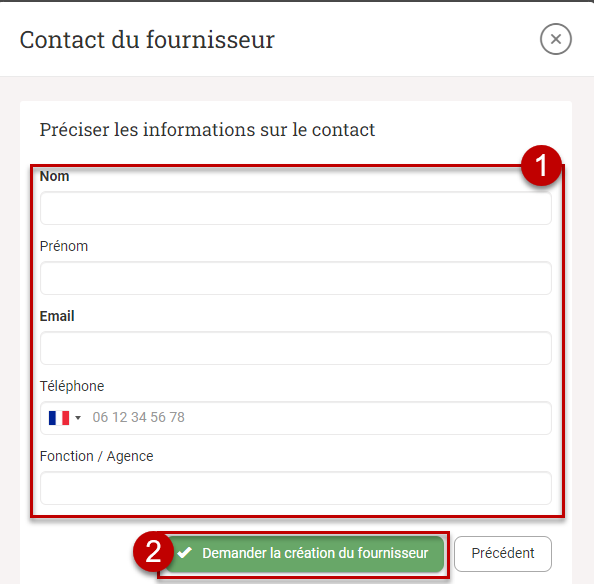 Once your request has been sent, you can follow the various stages of its progress. If you need help with this, please refer to the Help Centre article on the subject.
Do you have any other questions we haven't thought of? Send us your request at this address. We look forward to hearing from you!
Related keywords :
creation - supplier - settings - creation pending - creation request - purchase