Empty cover and delete browsing history
The terms used in the article below correspond to iSYBUY. To find iBAT equivalents, click on this link.
Google Chrome, Mozilla Firefox, Microsoft Edge: each of these browsers has a "cache" system, which makes your web pages load faster.

iSYBUY is what we call a full-web application, which means you can access it online from any browser (i.e., without having to install any software on your workstation). This is one of the reasons why you can benefit from our monthly updates, without having to do a thing!
In this article :
Empty your browser's cover
You may find that a modification you've made on the platform isn't immediately visible : it's probably a question of "cover"!
To make sure you get the best possible experience on our applications, it's essential to clear your cover regularly, especially if you encounter any strange behavior on the platform.


To clear your browser's cover, hold down Ctrl + F5
Delete browsing history
This action allows you to solve certain connection or display problems caused by your browser.
Mozilla Firefox
Click on

in the top right-hand corner of your browser, then on Settings
Select the Privacy & Security panel
In the Cookies and site data section, check the box and then click on "Clear data". Then close and reopen your browser

Google Chrome
Open Chrome, then click on
at the top right of your screen
Click on More tools > Clear browsing data.
Choose a period, check the boxes and click on Clear Data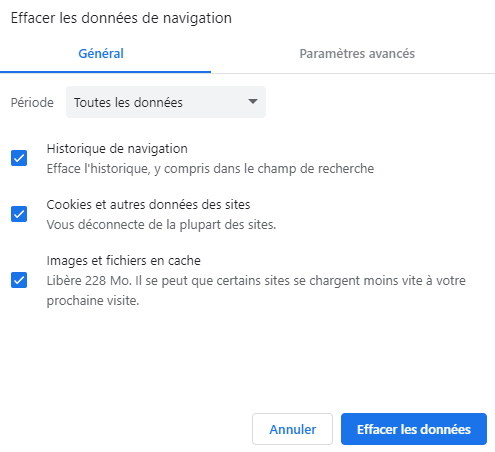 Tips : You can also click on the Ctrl + Shift + Delete shortcut to display this window directly!
Sur Microsoft Edge
Click on , located at the bottom right of your screen, then on Privacy, search and services
Then click on Choose items to delete (click here for item descriptions)
Then click on Erase now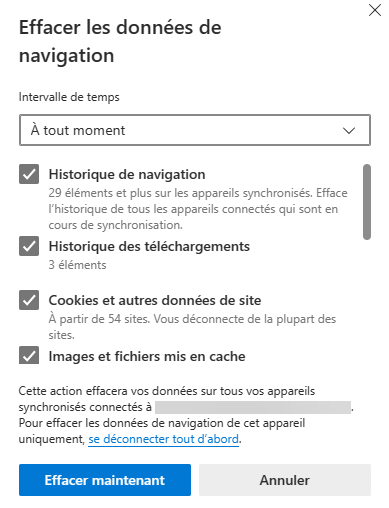 Do you have any other questions we haven't thought of? Send us your request at this address. We look forward to hearing from you!
Related keywords:
Login - cookies - problems - difficulties - access - clear - history - data - delete