The subcontracting module
The terms used in the article below correspond to iSYBUY. To find iBAT equivalents, click on this link.
The subcontracting module gives you the ability to generate "subcontracts", to facilitate monitoring by the Works Supervisor.
The subcontracting module is available to all iSYBUY users on specific request. If you are interested, please contact us by clicking here.
In this article :
The "subcontract order" type
This is a new type of order that can be referred to as a "contract" and which includes GTCs that are different from standard orders (accessible via Company Management).
The first step is to add items to your basket, then select the "subcontracting" order type and place your order in the usual way. If you would like more information on this subject, please refer to the relevant help centre article.

Once you have placed your order, you will find it in the "Receive" tab (1). You can then accept the order in the usual way (2), or click on "Create contract" (3).

If you clicked on "create the contract", the contract will be created and you will see the "create a statement for contract xxx" button.

Note :
Once the subcontract has been created in iSYBUY, the user manages "situations". At the end of the month, they take stock of what they have or have not validated for payment according to the management of the contract they have defined with the subcontractor. The objective is to generate "BLs" in iSYBUY which correspond in amount to the invoice that the subcontractor issues to the company.

The "subcontract" module
In this case, you are able to generate "Subcontracting Contracts" to facilitate monitoring by the Works Supervisor. Once the option has been activated, a new button will appear in the order tracking screen, giving access to an advanced subcontracting order management mode.
This function is available from the Management menu (1) and then from the "Subcontracts" tab (2).

Then click on "New contract".

In the pop-up window that opens, complete the information requested (1) and then click on "create the subcontract" (2).
Note :
Do not forget to complete the second tab (3) before validating the creation of the contract !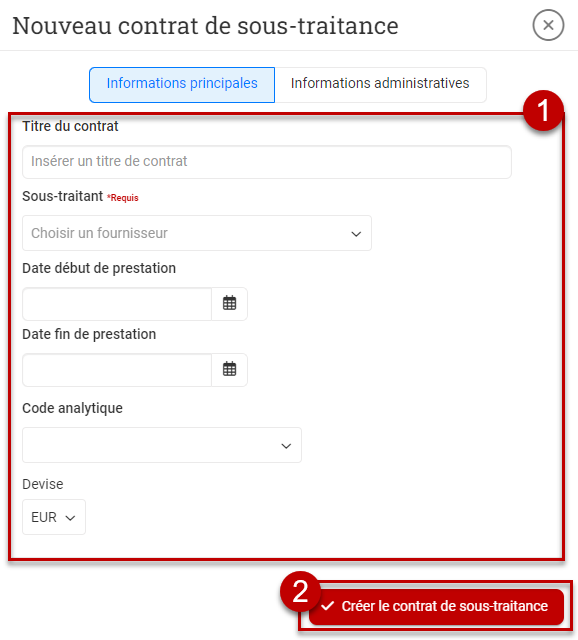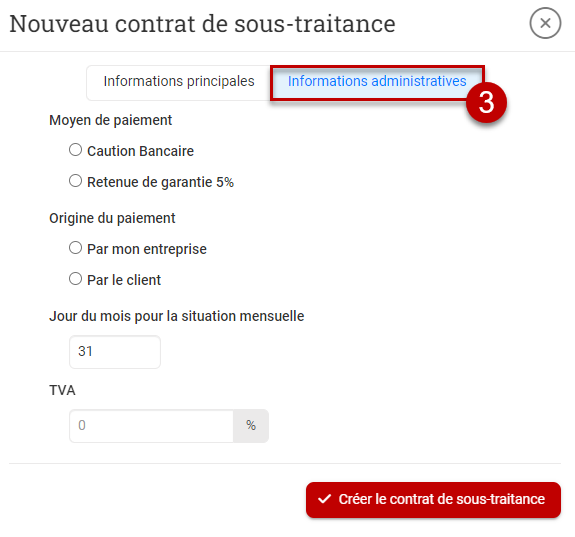 Complete the information requested (1). To make changes to the contract, you can also click on the "information" button (2).

In the pop-up window that opens, as well as modifying the information in the two tabs, you can also delete the contract (1) or close it (2).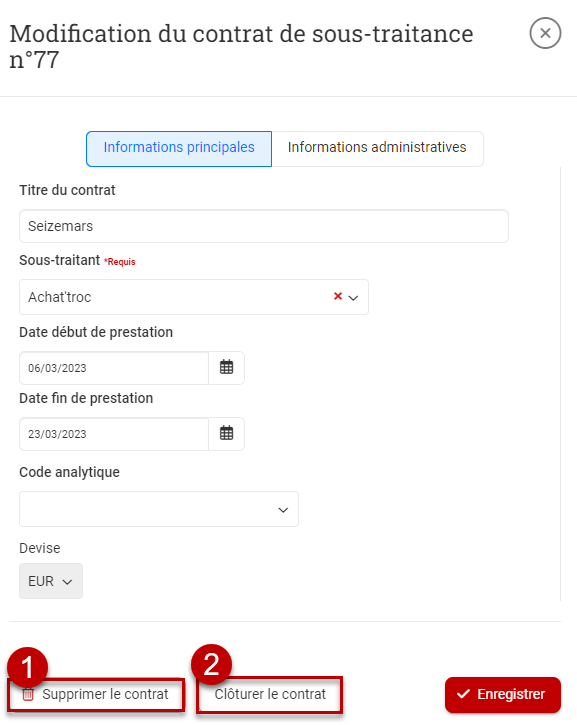 If you click directly on the subcontracting order of your choice, you will be taken to a summary table of your expenditure, which will help you manage your budget. In particular, you have a market view (1), a total view (2) and the option of adding a rider (3).

Do you have any other questions we haven't thought of? Send us your request at this address. We look forward to hearing from you!
Related keywords :
Module - subcontracting - order - contract - situation - view - market - total - rider - purchase