Trade discounts on free-entry orders
The terms used in the article below correspond to iSYBUY. To find iBAT equivalents, click on this link.
The trade discount management module is available to all iSYBUY users with at least CMDCAT or CMDHORSCAT privilege. If you are interested in this functionality, please contact us by clicking here.
In this article :
How to add a trade discount to a free-form entry ?
The first step is to go to the "Order" menu (1), then click on "Free-entry" (2).

Then click on "Add more information".

On the pop-up window that opens, you can fill in all the necessary information, including :
The quantity of items you wish to order (1)
The unit of measure for the item (2)
The gross unit price of the item (3)
The discount percentage (4)
The discounted unit price (5)
Note :
Cells (3), (4) and (5) are interdependent : as soon as two of them have been filled in, the third cell will automatically be filled in with the data entered; it doesn't matter which cell it is.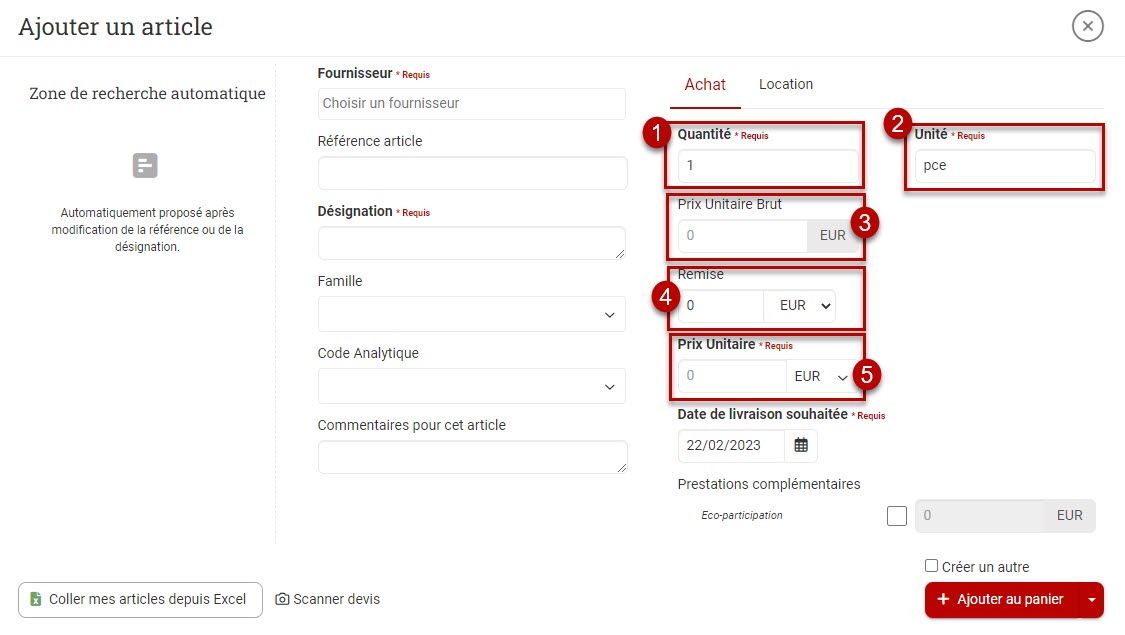 How does the trade discount appear in the basket and orders ?
If you continue through all the steps until you reach the shopping basket, you will notice that the default price is the one with the discount.


Click on "Checkout" to send the order to the supplier. Your order will now look like this

Do you have any other questions we haven't thought of? Send us your request at this address. We look forward to hearing from you!
Related keywords :
trade discount - percentage - reduction - amount - order - free input - purchase